Patterns
General
This site has LOTS (I think the most) of free patterns: Look under the category you are interested in and go from there!!
I just discovered this site and am still evaluating the patterns, but the first look seems good.
Most of the patterns are free. Wow. Sophisticated styles and a wide variety.
A list of sites that have free patterns so there may be some repetitions.
A Hat-a-Long website that has links to knitting patterns for hats, and a whole lot more. Look under the "Charities" section for links to free patterns for mittens, afghans, hats, etc.
Knitting Projects & Articles from Interweave Press
Look here for free patterns and articles from one of the best knitting magazines out there. Very well written patterns and articles. A magazine worth subscribing to.
DIY Network: Knitty Gritty Patterns: There is a wide range of patterns here.
If you sign up for their newsletter, The Knitting Zone News, they send you free patterns. Here is the link to sign up: http://www.knittingzone.com/catalog/lists/?p=subscribe&id=1

My Free Knitting Patterns!! glampyre knits
Right now, just hats and scarves, but more to come in the near future. Interesting ladder scarf pattern.
Children/Toys
This pattern is just too cute. I must buy this pattern.
kids stuff, Keppie, a cute hat.
Dishrags and Towels
Textured Brick/Slipstitch Dishrag
Dish Towel in the Nina Shawl Pattern
This is inspiration from the Mason Dixon KAL and Barbara Walker. Read the entry and you will see how the clever person used the shawl pattern from the Mason Dixon Knitting book and a slip stitch pattern from Barbara Walker's book to create a beautiful dish towel.
Felted Purses/Handbags
The photos below are Noni Bags (felted). You can purchase patterns for these at yarn stores or online.
Interview with Nora Bellows, the creator of the Noni bags
Here is a website that has photos of all the patterns. Noni Bags. You have to have your POP-UPs ON for this site to see the photos. (You can set your pop-ups to be on for only this site.) Click on each one to see the photos. Here are a few.
Fingerless Gloves
http://wendyknits.net/knit/mitts.htm
http://www.knittingatknoon.com/fingerlessmittenpatt.html
Double Knitting
Flowers
Knitted Flower: similar to Noni Camellia
Hats
A KAL devoted to hats. Lots of links for hat patterns and lots of contributors for inspirations.
Interweave Knits Short Row Hat
Items for the Home
Felted Coasters, Beverage Jackets, and Hotpad Pattern
Moderne Log Cabin from Amazon.com website
Purses (mostly felted)
A pattern to purchase or an inspiration! Felted cables.
Lorraine: a "faux Ferrigamo" bag
Vivian Hoxbro Free Patterns. Mitered Square Felted Purse. Not just felted bag patterns. Worth a look.
"Purse pattern: "Special Companion"
Felted Purse pattern from dailyknitter.com
Use this tip sheet if making the Belle Felted Handbag
Use this tip sheet if making the Elle Felted Handbag

The Sophie Bag: This is the Sophie Bag that I made in black with green novelty yarn trim at the top. To see my Sophie Bag, go here.
Modified Sophie Bag with Beaded Handle
Free Felted Patterns and Free Felted Purse Patterns
Lots of felted purse patterns!!!
Nubbles Felted Triangular Handbag
Felted Handbags and Totes from Noble Knits

Felted Bag with Mitered Squares
Handbags from old sweaters: Similar idea as in the book, Alterknits.
Scarves
Soap Socks
http://ma2ut.blogspot.com/2006/11/lather-up.html
http://www.knitlist.com/00gift/soap-sock.htm
Socks
Boogie Knits Free Sock Pattern Links
Sweaters
A free pattern from Interweave Knits. This one really speaks to me.
Mason Dixon Knitting: PerfectSweater
Sweaters for dogs
Web generated dog sweater pattern
Custom dog Sweater for fido.
Tank Tops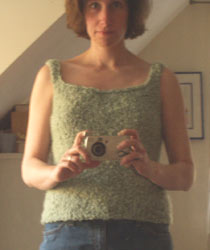 http://knit.definitelymaybe.org/patterns/ProsperousPlumTank.pdf
Wrist Warmer Patterns
http://del.icio.us/AmberCake/wristwarmers